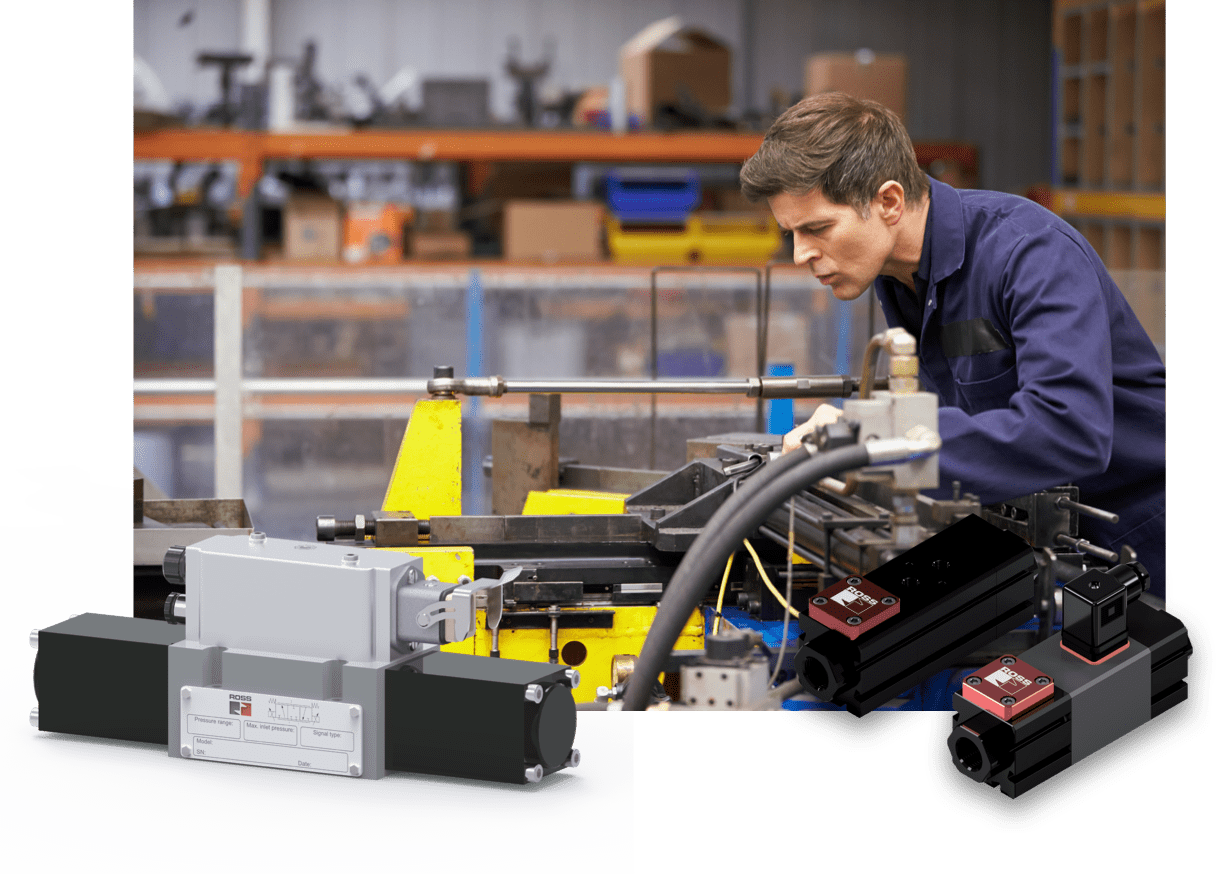 About ROSS EUROPA
Around the world, synonymous with the highest quality
ROSS EUROPA GmbH is a wholly-owned subsidiary of globally operating pneumatics company ROSS CONTROLS®. Based in Langen, near Frankfurt/Main, ROSS EUROPA® was formed in 1960. Currently the company employs 80 people at its Langen headquarters. 30 representatives and sales offices are located around Europe, the Middle East and Northern Africa. Backed up by the global ROSS organization and locally assisted by its strong distribution and service network, ROSS EUROPA® is in a position to respond rapidly and give expert support wherever it is needed. The French market is served by ROSS EUROPA's local subsidiary.
ROSS EUROPA® develops, manufactures and markets high-quality pneumatic valves and components as well as complex control units. These devices and services are used in virtually all fields focusing on the automation of machinery and equipment. To solve individual, customer-specific control problems, ROSS EUROPA® offers complete service from one source, featuring electronics as well. This range of services covers project planning, computer-aided design and fully-automated manufacturing as well as the provision of ready-to-use control systems. Extensive technological know-how based on decades of experience as well as the cost-efficient application of state-of-the-art manufacturing processes have gained ROSS controls a reputation for excellence and quality on an international level.
The ROSS products meet the following requirements:
European Machinery Directive 2006/42/EU
Electromagnetic Compatibility (EMC) Directive 2014/30/EU
ATEX 2014/34/EU
Safety Integrity Level (SIL) & Performance Level (PL) Certification
All of our products are developed and produced according to the ISO 9001:2015.
ISO 9001:2015 Certificate
ROSS Controls - Paving the Way to Modern Pneumatics.
Around the world, ROSS is acknowledged as highly capable problem solvers in all major industries, where our technology offers our customers distinct advantages. Our customers are the experts on what they need for their manufacturing processes. It is our goal to transform ideas into physical products, and we like challenges. As a result, ROSS continues to introduce a host of innovative pneumatic solutions. With our unique customer-driven ROSS/FLEX development process, we are revolutionizing the fluid power industry.
ROSS is a truly global group of companies, including ISO 9000 certified facilities and/or sales offices in the United States, Brazil, Japan, China, India, and Europe. In addition, a distribution network of over 150 stocking representatives and distributors worldwide makes sure that ROSS products and know-how are accessible around the globe.
Without understating the importance of technology, the people of ROSS are our biggest asset. We have a rich heritage of pneumatic valve expertise, and employ not only experts in fluid power, but also engineers from our focus industries. Our worldwide distributor network has some of the best minds in the fluid power industry.
ROSS is dedicated to developing matchless fluid power solutions to improve the efficiency and effectiveness of our customers' equipment and operations. With our outstanding design, sales, service, and highly trained worldwide distributor network, we have GLOBAL reach with a LOCAL touch ready to provide you with our very best anywhere.