Industry 4.0
for Container Glass Industry
Proportional Pressure Control Valve
Proportional Pressure Control Valves are used in container glass production for process functions such as Plunger up, Counter-Blow/Plunger-Cooling and Final Blow/Finish Cooling/Settle Blow. A Proportional Pressure Control Valve regulates the pressure precisely and continuously and can be flexible adapted to different production requirements. Whether for Press-Blow, Blow-Blow or Narrow-Neck Press-Blow processes – the Proportional Pressure Control Valves ensure high process flexibility and high glass container quality.

The ROSS Proportional Pressure Control Valve offers much more as a proportional pressure control. Its extensive analysis and communication features are unique and offer many more advantages.

New: The valve continuously monitors its own performance and the external supply in order to compensate automatically compensates for disturbances and inform the user as well as the control system about the process sequence.

Advantages: This information helps to identify problems in the system more quickly and to take preventive action to ensure uninterrupted machine operation and optimal product quality. The new valve features help to achieve a better productivity, less maintenance costs and more machine availability.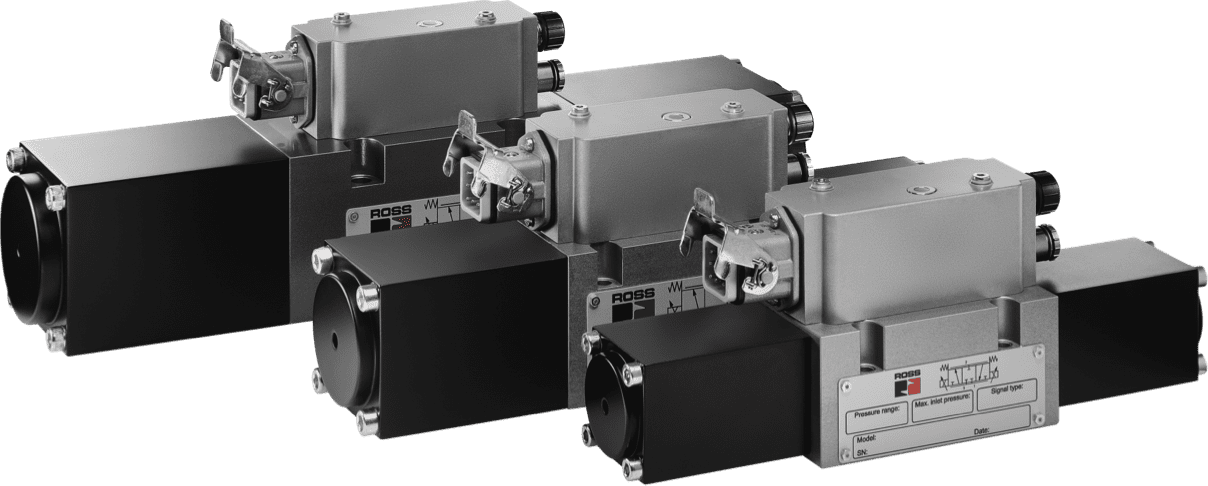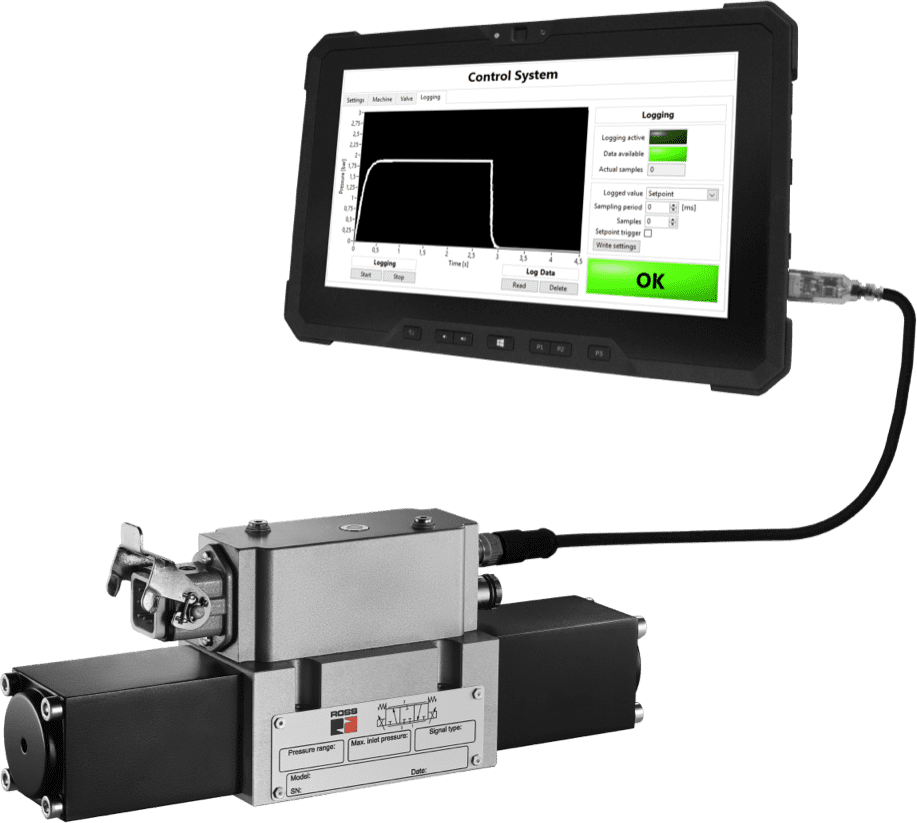 ROSS Diagnostic Tablet
for Proportional Pressure Control Valves
The Diagnostic Tablet allows users to monitor and optimize important steps of the bottle forming processes in real time. Communication functions of the valves support predictive maintenance and minimized machine down-time.
Why ROSS Poppet Valves are the ideal solution for the Glass Industry?
ROSS poppet valves are the product of choice for the Container Glass Industry. With its proven reliability and performance plus consistent switching time it has proven itself over many decades in this challenging and unforgiving environment. Its internal construction has been carefully calculated to produce strong shifting and sealing forces in each direction which results in a design which ensures high speed, repeatability and high shifting forces over the life of the valve.

ROSS poppet valves have positive sealing with no sliding action to prevent damage and wear. They are also self-cleaning and dirt tolerant thanks to the smallest flow-through area across the poppet's seal and seat which produces a high-enough velocity to blow out all dirt and foreign matter. Plus, the valve is self-compensating for wear by automatically changing stroke length due to height changes in the valve seal from burnishing. These valves are designed for high-temperature service.
Download Product Literature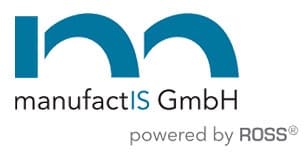 On-Site Service - Life Cycle Repair - Products & Solutions
GPS - Parts & Components
In addition to already existing and established product range manufactIS offers as exclusive licensee all mechanical GPS parts and assemblies from current and previous machine generations.

If you require a GPS spare part, simply provide the GPS article number to manufactIS or contact the team if you want to keep your GPS machine "fit" for the next life cycle.
Consulting & Design
manufactIS supports you in all technical questions around the IS machine and realises modifications, new designs and customised solutions according to your requirements. As a competent and experienced partner in this business, manufactIS offers comprehensive know-how around the optimisation of IS machines.
Life Cycle Repair
manufactIS gives you the possibility with a safe and innovative components exchange to upgrade your machine for the next life cycle. Economically and technically these machines are equivalent to a new, comparable machine. Your investment is precisely plannable and can be modular fashioned according to your needs. Current technology, modern production and safety – always up to date.
The manufactIS Service Team can support you on all technical matters related to the IS-machine. The team can help with designs, modifications, installation, repair and maintenance, and even with IS-Section exchanges.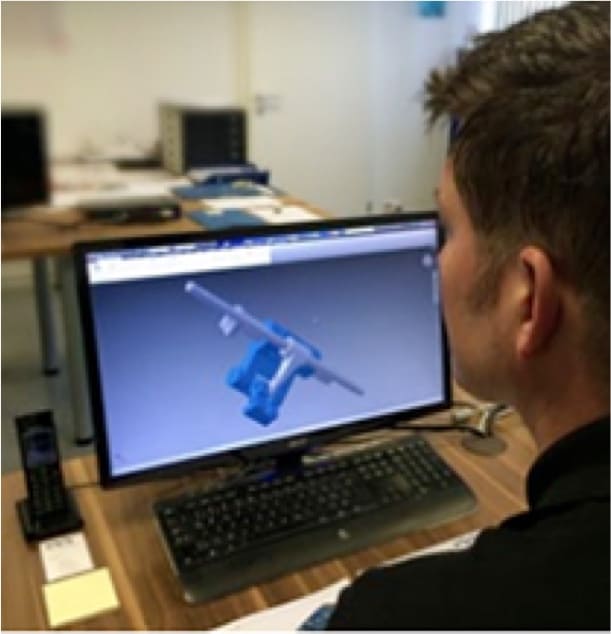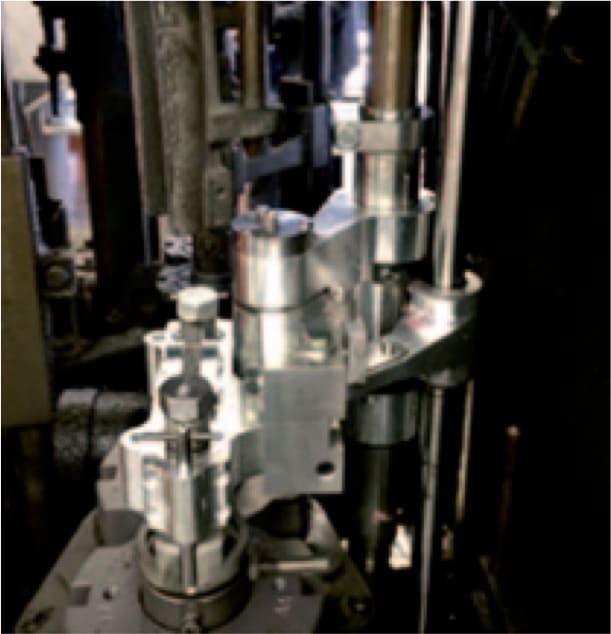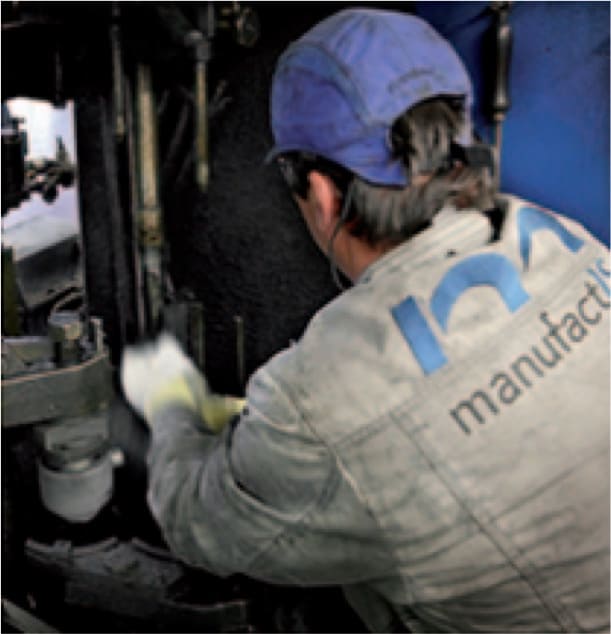 ROSS/FLEX® – Tailoring Standard Products to Your Specific Applications on Glass Machines
ROSS/FLEX® is the answer when you need the function of a standard product in a specific package and need it quickly. ROSS can repackage the existing, proven internal parts of standard products to your specifications, eliminating the need for life cycle testing. A unique solution, designed to your requirements, can be delivered in a few weeks rather than months and months.
Our ROSS/FLEX® engineers will be happy to support you in the conception of your special product and provide you with a unique solution tailored specifically to your requirements. ROSS/FLEX® eliminates costs and dramatically reduces the time required to develop a solution. Please contact our Glass Specialists for assistance in designing YOUR custom-made product solution.
Get Started
Safety Solutions for the Glass Container Industry - Cold End
ROSS employs a team of Global Safety Specialists with vast experience in fluid power applications with special emphasis on Machine Safety. The ROSS Safety Team participates on industry standards committees that set policy and best practices for machine guarding in order to improve worker Safety, reduce the likelihood of equipment damage, and increase productivity.
Our Global Glass Specialists and Safety Specialists work side by side to help you to improve and secure your COLD END safety needs and requirements. We understand the demands of the glass container inspection process, carton packaging, and bulk palletizing packaging. Whether you are looking at integrating total machine safety or a simple lockout/tagout valve, let our team help you make your COLD END working area SAFE.
Learn More

---
Safety Solutions for the Glass Container Industry - Hot End
The goals of improving worker Safety, reducing the likelihood of equipment damage, and increasing productivity remain the same on the HOT END, however the challenges of limited space, high temperatures, etc. complicate the implementation of standard solutions. The ROSS Glass Industry Specialists can help with custom designs for your applications through our ROSS/FLEX® capabilities.

ROSS/FLEX® is a cost-efficient process to create customer-defined controls based on a unique combination of modern technologies, proven valve components and customer participation.

In addition, the manufactIS Team can provide you with professional support for modernisations of your machine as well as for the installation of safety functions.
Contact Us
Contact Our Team
Let us search together for more possibilities to optimize your production processes with the underlying goal of further strengthening your position in the worldwide "Glass Community". Call our Global Glass Team to discuss your individual requirements. Our team of Global Industry Specialists, including manufactIS GmbH, would be happy to assist in finding the right solution.