Safety in the Steel Industry
High Capacity Manual Lockout L-O-X® Valve, Series 15
Following any FRL components, an energy isolation valve is usually the first valve in the line supplying compressed air to equipment. The energy isolation valve should provide a quick means of shutting off the supply of air and exhausting the downstream lines.

Quick Exhaust and High Visibility
The air can be shut off by pushing the L-O-X® handle inward; downstream air is simultaneously exhausted through the L-O-X® exhaust port. It's yellow body and large red operating handle allow high visibility. The large exhaust port enables rapid release of line pressure and is threaded for the installation of a silencer or a line for remote exhausting. The High-Capacity Manual Lockout L-O-X® valve is offered in either G1-1/2 & G2 ports.

All 15 Series Lockout Valves include an integrated sensing port for pressure verification where a visual pop-up indicator or pressure switch can be installed. The controlling spool of the valve employs seals made of very low-friction material. These seals enable the L-O-X® spool to shift smoothly and easily even after being on standby for a long period of time.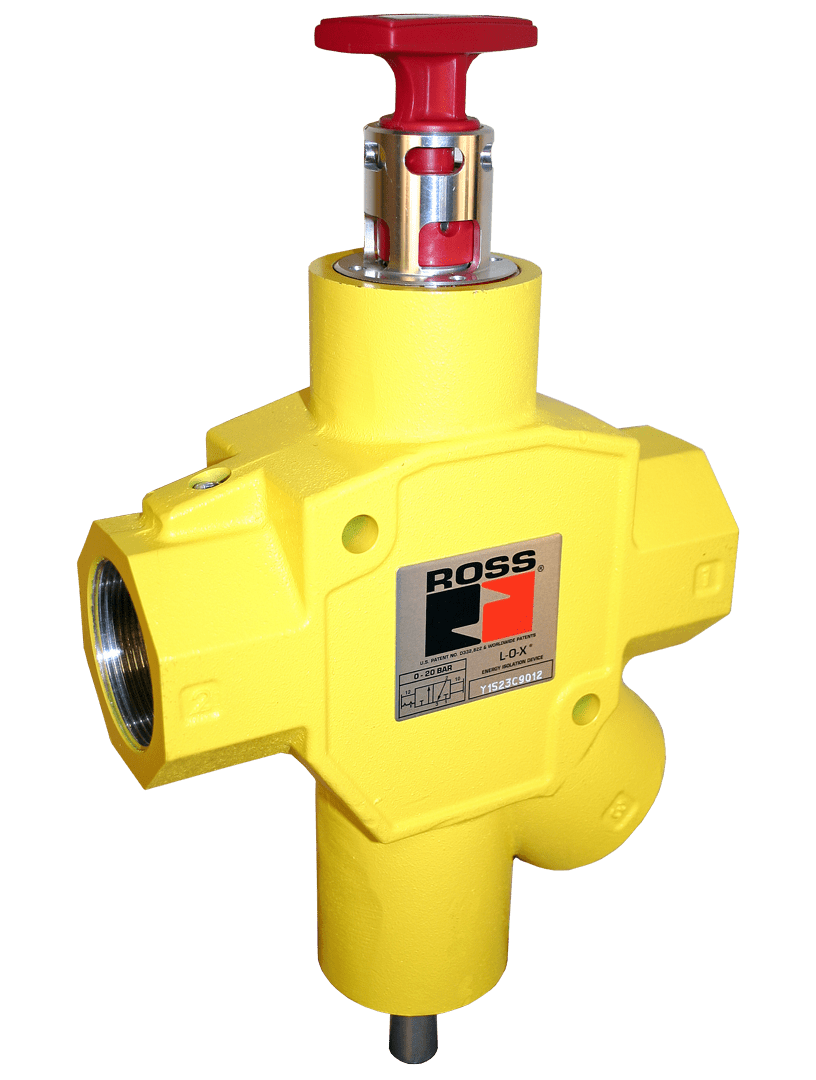 ---
Our innovative and reliable products are used in many applications in the steel industry
Furnaces
Hot Rolling Mill
Annealing
Sheering
Energy Saving
Steel Processing
Cold Rolling Mill
Galvanising
Baghouse
Continuous Casting
Picking
Coating
Water Treatment
---
ROSS poppet valves in the Aluminum and Steel Industries
The ROSS poppet valves have proven themselves through their high reliability and performance plus consistent switching times over many decades in this challenging and unforgiving environment in the Aluminum and Steel Industry. Its internal construction has been carefully calculated to produce strong shifting and sealing forces in each direction which results in a design which ensures high speed, repeatability and high shifting forces over the life of the valve.

ROSS poppet valves have positive sealing with no sliding action to prevent damage and wear. They are also self-cleaning and dirt tolerant thanks to the smallest flow-through area across the poppet's seal and seat which produces a high-enough velocity to blow out all dirt and foreign matter. If you are looking for robust and reliable products for your application, ROSS poppet valves are the products of choice!
Browse Our Catalog
Applications for high-quality ROSS solutions in the Aluminum Industry
EnergySaver
Anode Jacking
Door Opening
Breaker/Ore Feed
Overhead Crane
ROSS/FLEX® – Tailoring Standard Products to Your Specific Applications
ROSS/FLEX®
ROSS/FLEX® is the answer when you need the function of a standard product in a specific package and need it quickly. ROSS can repackage the existing, proven internal parts of standard products to your specifications, eliminating the need for life cycle testing. Our engineering design team can provide a unique solution that is designed to your requirements, delivered in days rather than weeks or months. ROSS/FLEX eliminates costs and dramatically reduces the time required to develop a new solution
Get Started
---
ROSS® Systems and Panels
ROSS service means a lot more than the supply of a comprehensive line of top-quality components. We are also known for the design of automation solutions following customers' specifications. To help you stay ahead of your competition. Simple designs or highly complex panel arrangements, exquisite stainless-steel or conventional standard designs – our engineers will make sure that your ideas will be carefully put into practice, according to your requests. Get the ROSS-experts on your team.

ROSS® service is not limited to the supply of quality components and expert application support. Experienced application specialists are qualified to work out solutions specifically tailored to your needs, and our construction department secures the expert handling of the projects.

Test our potential. Whether you need complex valve stand series, wall- or plate-mounted systems or even individual controls units. In any case we will be glad to present you cost-efficient solutions which will convince you too.
Get Started
ROSS Safety Specialists
Achieve compliance (ISO, EN, ANSI, CSA and OSHA), ROSS employs a team of Global Safety Specialists with vast experience and knowledge of the applicable global standards for fluid power applications. A well-designed Safety circuit will reduce risk, improve productivity and ultimately increase your bottom-line. Safety should be the cornerstone of any loss prevention program.
Learn More
Contact Our Team
ROSS employs a powerful team of experts with vast experience in fluid power able to help you find a solution for your safety goals. Whether it be a custom solution, a current product, application, or safety course, ROSS is here to provide just what you need with your business specifications in mind.